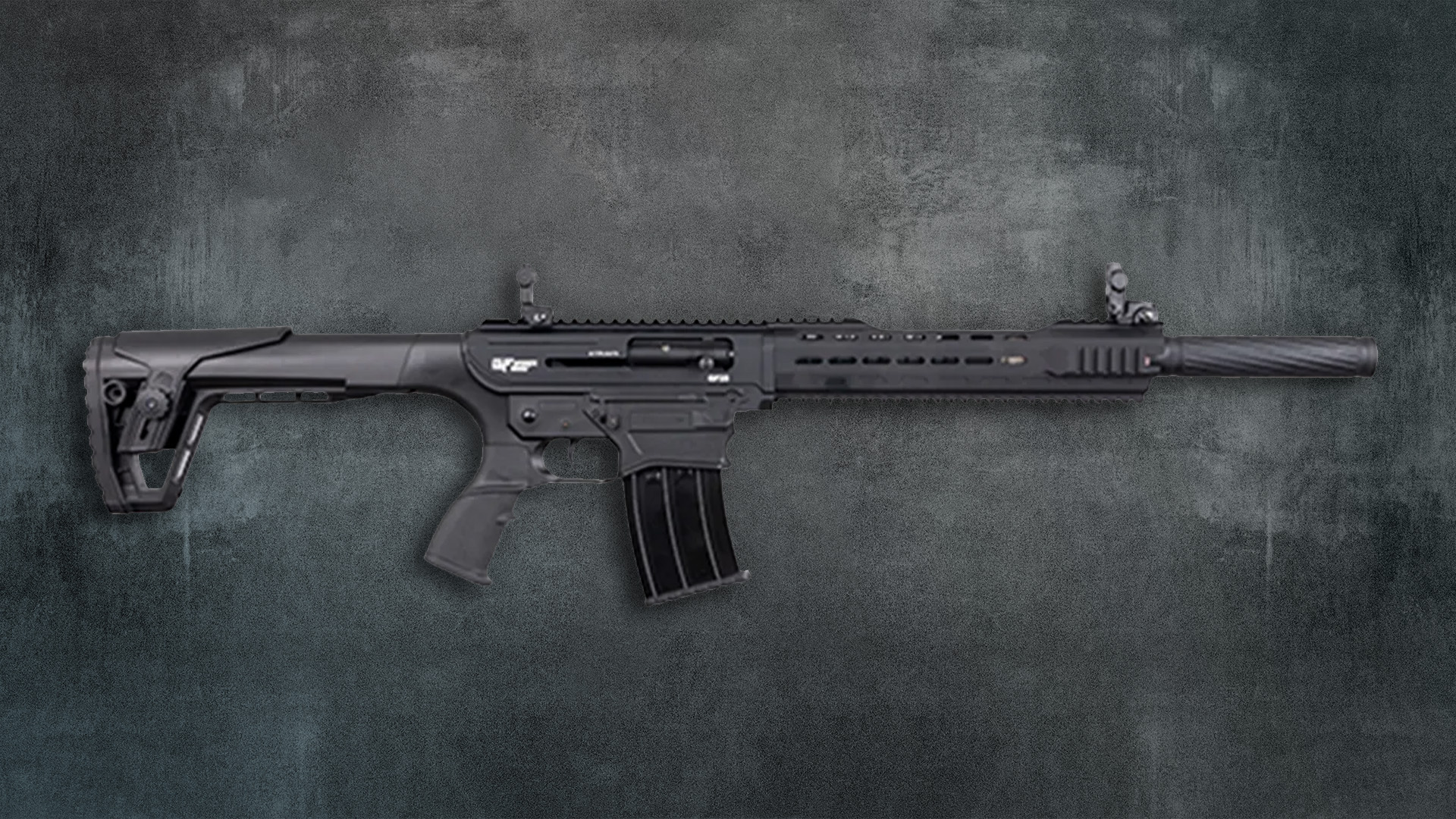 Magazine Fed AR-Style Semi-Auto Shotgun
ITEM # GFMKX31220
The Rugged And Dependable GF25 Magazine Fed Shotgun
Are you looking for a dependable and rugged semi automatic AR shotgun that can handle anything from steel shot to 00 buckshot and even slugs? Look no further than the GForce Arms GF25. This 12 gauge (12ga) magazine fed ar style shotgun comes standard with two (2) five (5) round magazines, a cylinder choke and is compatible with all 3 inch shell MKA 1919 magazine models. Not only does it have incredible durability but also has a limited lifetime warranty from GForce Arms.
The GF25 can take on any job you throw at it — from target shooting to home defense. It's equipped with heavy accessory attachment capability such as QD sling attachments so you'll always be ready for action. Don't worry about reliability, the GF25 is designed with durability in mind and will be with you for years to come.
If you're looking for an ar shotgun that can handle any round then the GForce Arms GF25 is your best bet. With its limited lifetime warranty, heavy accessory attachment capability and compatibility with all MKA 1919 magazine models, this ar style shotgun has everything you need to be fully prepared. Get yours today and hit the range!
The GF25 comes ready with a premium chromoly steel smooth bore 20 inch barrel, an aluminum free floated handgaurd, and pop-up iron sights. The top picatinny rail allows the shooter to install red dot optics and the adjustable cheek rest allows the shooter to gain a clear sight picture. The pistol grip on the GF25 is rubberized to give the shooter a solid grasp and control of GF25. With three different Cerakote color and pattern configurations – FDE, Tactical Gray and USA Flag Pattern – you're sure to find an ar shotgun that fits your style.
Don't forget – when you buy a GF25 you get a limited lifetime warranty from GForce Arms. They stand by their product so don't hesitate – order yours today! No matter what kind of rounds you plan on shooting, the GF25 has got your back. Get yours today!
If you are in search of a quality semi automatic shotgun, look no further. Get your GF25 ar style shotgun today and hit the range!
**Disclaimer: Always use the proper hearing and eye protection while shooting any firearm. Use of firearms is at your own risk. Gforce Arms is not responsible for any injury or damage caused by improper use of firearms or failure to abide by gun safety rules. Please handle all firearms with caution and respect.**
****The information provided in this article does not constitute legal advice and should not be taken as such***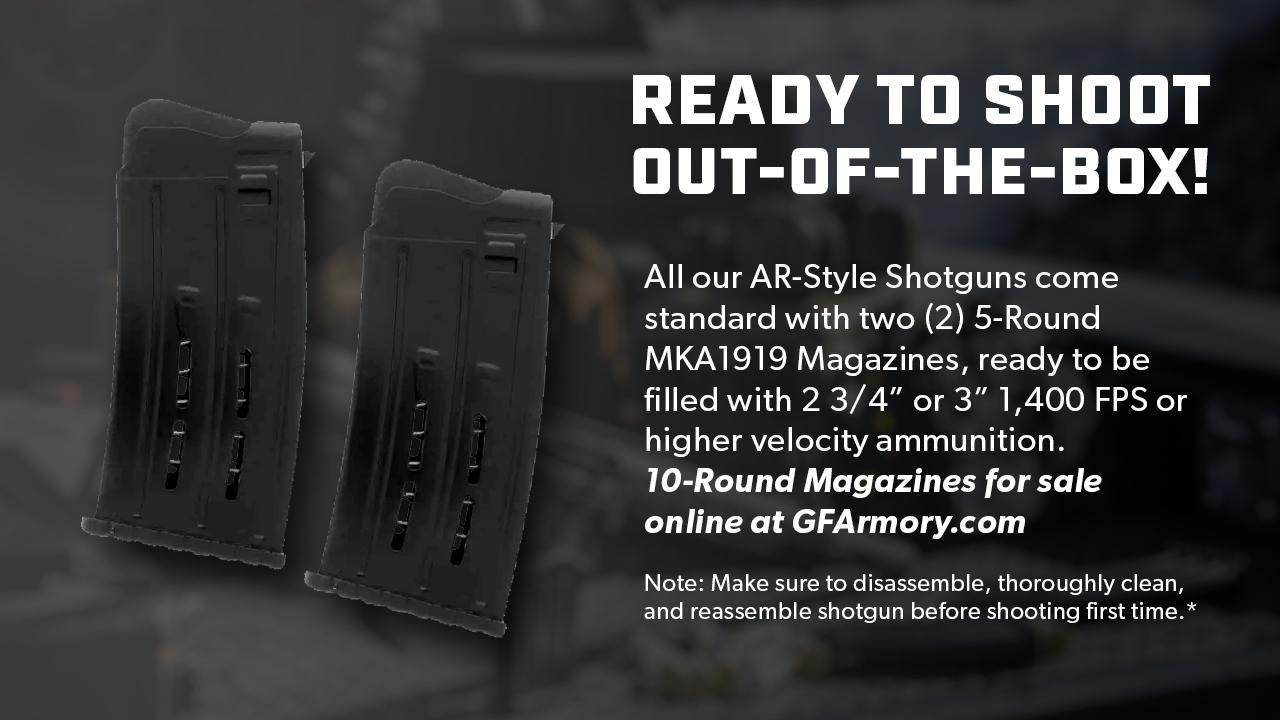 FEATURES
| | |
| --- | --- |
| STYLE  |  MKA1919 Magazine Fed |
| MANUFACTURER  |  GForce Arms, Turkey |
| CALIBER  |  12 Gauge (12GA) |
| SHELL SIZE COMPATIBILITY  |  2 3/4″ and 3″ |
| SHOT VELOCITY  |  1300FPS or faster (required to operate) |
| WEIGHT  |  8 lbs |
| BARREL LENGTH  |  20″ |
| BARREL THREADED  |  Yes |
| OVERALL LENGTH  |  43.25″ |
| CHOKES  |  CYL, IC, MOD, IM, FULL – accepts Mobil Benelli Choke Threads |
| FRONT SIGHT  |  Flip-Up |
| REAR SIGHT  |  Flip-Up |
| SLING MOUNTS  |  Quick-Disconnect (QD Mount) |
| MAGAZINE COMPATIBILITY  |  MKA 1919 |
| SYSTEM  |  Gas Operated, Piston Driven |
| RAIL  |  Picatinny top & bottom |
ATTENTION! We highly recommend using 1400 FPS or Higher Velocity Ammunition on this Firearm for at least the first 100 rounds during the "break-in period".
Model GF25 12GA
Imported by GForce Arms — Reno, Nevada